One tool to maximise every client's attention moments.
Improve your margins by building digital experiences faster or extend your offering with digital experiences that demand attention.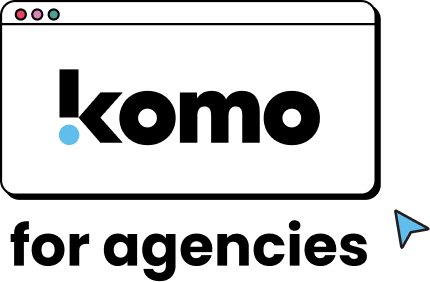 POWERFUL FEATURES
Power-up your clients...
Make more moments
50+ games, competitions and integrations to bring digital, social, broadcast & experiential moments to life.
Capture valuable data
Non-intrusively capture rich zero and first-party data, supported by a GDPR-compliant platform that connects with your existing CRM.
Drive sales
Directly contribute to the ROI of your clients with Komo's Digital Coupons or Branded open or closed-loop Mastercards®.
POWERFUL FEATURES
...and empower agency teams
Zero coding
Experience a no-code build of engaging and immersive consumer promotions.
Flexible pricing
Our adaptable and tiered pricing system is built to suit each and every agency.
Enterprise infrastructure
A world-class platform that services enterprise partners, with highly available and scalable systems, always-on monitoring and 24/7 customer support.
Don't take our word for it!
"Utilising the Komo platform has enabled us to bring another level to what we can offer our clients. Throughout the BBL season we were able to build out a live trivia campaign that ran throughout the season giving fans the chance to participate and go in the running to win some awesome prizes. The platform is user-friendly and offers a high level of personalisation to what can be built."
"Komo has become a powerful platform service for the Havas Media and Havas Sports & Entertainment teams. It has enabled us to build world-class localised digital activations. We can now seamlessly strategise, create, and deploy engaging digital moments that surprise, delight, and deepen the connection between our brands and their respective consumer passion points."
"We recently worked with Komo to trial their in-stadium fan engagement technology at Marvel Stadium with a crowd of over 35,000 footy fans. Their tech platform integrated with our systems seamlessly and took less than a minute to get set up. We are impressed by the capabilities of the technology which is not only highly engaging for the fans, but also has some fantastic commercial benefits for sponsors."
AGENCY FAQ
Got Questions?
How does pricing work?
We offer a flexible payment scheme where you can activate individual campaigns whenever and wherever you need to. Purchase credits that are valid for 12 months and run for 30 days at a time. Run multiple campaigns for multiple clients at once with adaptable and tiered pricing that works for you! 12-month subscriptions are also available.
Can I use my existing CRM platform with Komo?
Komo integrates with leading CRM, CDP and ESP platforms such as Mailchimp, SalesForce, HubSpot, Campaign Monitor, emarketeer, Click Dimensions, Revinate, ubivox, Merlin, Selligent and many more! The Platform can also share data with any program that operates with Zapier.
What reporting and analytics are available on the platform?
Access live data, analytics and insights that mean you can test, learn and update live! View your analytics by individual card or for your whole engagement hub and measure impressions, entries, engagements, user location, coupon redemption and even ROI.
One tool for every client