POWERFUL FEATURES
INSPIRE LASTING
CONNECTIONS
Craft compelling content that enriches the customer experience, fosters long-term loyalty and fuels passionate advocacy.

Build Customer Profiles
Construct comprehensive customer profiles that help you capture insights, preferences and market research from your target audience.

Surprise & Delight
Reward consumers with branded prizes and experiences that enrich brand-consumer relationships and bring joy to the customer experience.

Drive Repeat Engagement
Keep customers coming back from more with leaderboards, badges, points and loyalty tiers.
LOYALTY
BUILD DYNAMIC CUSTOMER PROFILES
Unveil the power of data-driven insights to foster personalized experiences and drive long-term loyalty by developing detailed customer profiles.
LOYALTY
DELIGHT CONSUMERS IN THE DIGITAL REALM
Harness innovative strategies and seamless experiences to cultivate lasting connections and spark joy. Use Komo's Digital Rewards to provide experiences that surprise and delight consumers.
LOYALTY
LOYALTY WITHOUT LIMITS
Use tailored, proven strategies for sustained interaction, like awarding badges for repeat engagement or driving competition with a leaderboard and points system.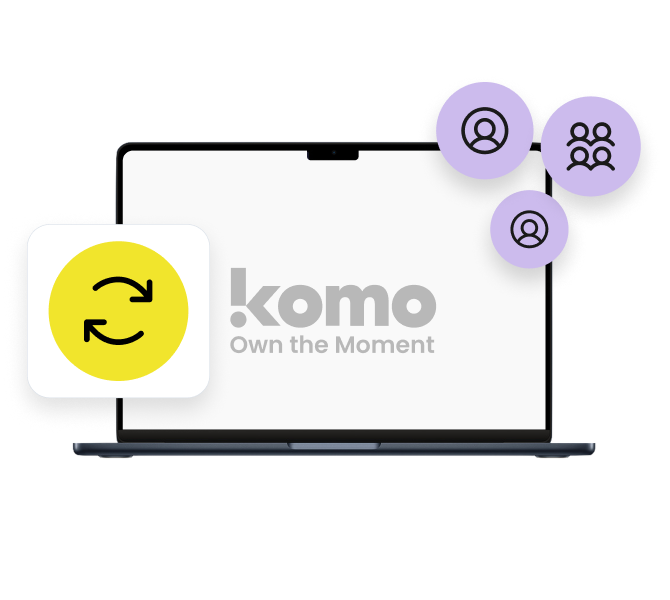 LOYALTY
BADGES OF HONOR
Assign badges to reward users for taking action. Incentivize your customers to engage with your content, play games, and complete forms, all while driving repeat visits to your digital destination.
LOYALTY
FULL FLEXIBILITY
Create your own workflows to develop loyalty seamlessly. Automate campaigns and respond to customer actions in real-time, using triggers and actions customized to suit your goals.
LOYALTY
WHAT YOU'LL GET

No Coding Required
Save your developer resources for more important things - build a loyalty program from scratch with absolutely zero coding required.
Endless Rewards
Brand-consumer relationships are built on trust - reward engagement and be rewarded with rich data, collected non-intrusively.
Catch-All
Efficiently monitor and capture each customer interaction through a unified, centralized system.
Centralized Data Warehouse
Store all of your customer data in the same place you develop and deploy your loyalty campaigns.
Loyalty, Long-term
Capture rich insights that allow you to personalize more effectively, driving loyalty for the long haul.