SECURITY
YOUR DATA: PROTECTED BY

DEFAULT
At Komo, we take security and privacy seriously. Let's explore the ways in which we safeguard your data.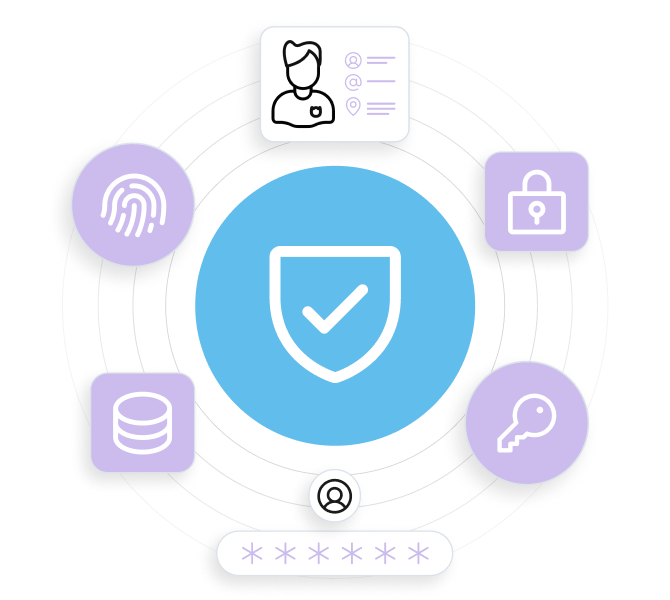 Data Encryption at Rest
We implement industry-standard encryption protocols that protect all data at rest on our servers from unauthorized access.
Data Encryption in Transit
Data is transferred between our customers' browser and servers or between systems using HTTPS to ensure data is encrypted in transit.
Rigorous Product Design & Security Testing
We prioritize the security of our products by following industry best practices for product design and development, conducting regular security assessments and testing throughout the software development lifecycle.
Regular External Security Audits
We periodically engage third-party security experts to perform independent security audits and annual penetration testing to identify and address any vulnerabilities in our system.
Manage Access to Your Account
We offer advanced access management features that allow users to manage and monitor access to their accounts and set role-based permissions.
Control Usability with User Access Levels
Our customers have granular control over user access levels, enabling our users to define access privileges and visibility for each team member.
Password Protection
Guidance
We prioritize password security by providing guidance to our users on creating strong and unique passwords, encouraging the use of password managers, and requiring complex passwords.
24/7 Support for Critical Issues
We provide 24/7 support for critical issues to ensure that our users receive prompt assistance and resolution of any issues that may affect their ability to use our products and services.
Point-in-Time Recovery
We offer recovery capabilities that enable our users to restore their data to a specific point in time, allowing them to recover from accidental deletion or data corruption with precision and ease.
Regular Security Updates
We regularly release security updates that address known vulnerabilities and potential threats, ensuring that our systems and software are up to date with the latest security patches and fixes.
Network & Encryption Protection
We secure our network and protect our users' data with advanced encryption technologies, using industry-standard protocols to ensure the confidentiality, integrity, and authenticity of all data transfers.
Daily Backups
We protect our users' data from unexpected events such as hardware failure or data corruption by performing daily backups of all user data and storing it in secure, off-site locations.
OUR COMMITMENTS TO DATA SECURITY

Data Processing Agreement
We comply with data protection regulations and offer our users a data processing agreement that outlines our commitment to protecting their data and sets out the terms of our data processing activities.

Privacy Policy
We have a comprehensive privacy policy that explains our data collection, use, and sharing practices, and provides our users with the transparency and control they need to make informed decisions about how their data is used and processed within our platform.

Terms of Service
Our Terms of Service document outlines users' rights and obligations, the limitations of liability, and the applicable laws and jurisdiction, ensuring that our users have a clear understanding of the expectations and requirements of using our service.

You Own the Data
All the data you collect via the Komo Platform is yours to own. We never sell our user data.

Data Protection Officer
Our dedicated data protection officer, Glenn, is responsible for ensuring that our data processing activities comply with data protection laws and regulations.
"We had a great time putting together our Komo campaign for Froth Town 2022. The Scratch and Win game was so fun and provided us an opportunity to give away customer incentives to purchase tickets to our festival. The activation worked so well and we reached our goal of entries without any digital spend. Our team is very much looking forward to using the platform again in the future as the need for creative ways to market continues to increase year on year."
Chris Bausor | Co-Founder & Director at Bar Pop

FREQUENTLY ASKED QUESTIONS
How is data stored once collected and how private is this data?
Data captured from a form is stored in our Postgres database, hosted in Google Cloud. Only your own company users in the Komo Portal can access the data.
When and/or how do you dispose of data following a campaign?
We do not delete any data without your explicit consent - You can delete a hub at any point, at which point it will be scheduled for deletion within 30 days.
Are all data collection processes compliant at Komo?
Yes, all data collection is compliant at Komo. But please also be aware that customers are responsible for setting up data capture forms, so proper collection guidelines should be adhered to when setting up these forms.
Refer to this OAIC article for more information.
What systems do yo use for data collection and storage?
All our data is hosted on Google Cloud, specifically Cloud Storage, Postgres SQL & Redis for data storage. Click here for more information on Google Cloud.